Uxua Casa Opens in Bahia, Brazil: Buzzworthy Hotel from the Creative Director of Diesel
---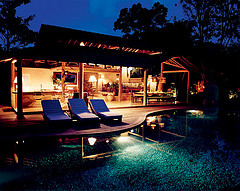 Diesel Creative Director Wilbert Das has opened a
nine-cottage boutique hotel
set in a verdant garden in Trancoso, a fishing village on Brazil's Bahia coast. Behind colorful facades, each of the cottages is uniquely decorated as Das worked in collaboration with local artisans, and requested that they use organic construction materials available locally.
As recently highlighted in Vanity Fair,
Das expresses fatigue with design hotels, stating the importance of embracing the locale when on vacation:
Workers made walls from mud and branches (a local Indian technique), used wooden blinds instead of windowpanes, and shingled roofs with a traditional hardwood. Now complete, the hotel is a complex of tropical gardens, a quartz-lined pool, and colorful buildings that are in sync with their historic surroundings.
Rustic, yet wholly luxurious, Uxua Casa has a spa facility and beachfront lounge with sofas. Notably, 60 percent of the property is preserved as a sea turtle sanctuary, as Uxua Casa is committed to sustainable tourism in the region. Of all the accommodations, the treehouse is the most exciting, made entirely from recycled wood. All cottages have fully-equipped kitchens, indoor/outdoor living rooms, and Wifi internet access. Some have private plunge pools, gardens, Jacuzzis, and terraces.
---