Update: Technical Difficulties for the Leading Hotels of the World 1928 Promotion
---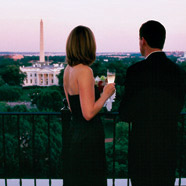 Today was the day. Savvy travelers tried to log on to the Leading Hotels of the World website to take advantage of the
incredible $19.28 room rates to celebrate LHW's 80th anniversary.
A reader brought it to our attention that the website was not available for the 80-minute interval when the celebratory rates were made available.
LHW has issued an apology on its website
, and promises another opportunity to participate in the promotion.
Due to the overwhelming number of consumers participating in this promotion, we have indeed experienced technical difficulties. Despite our efforts to carefully manage and prepare for this worldwide promotion, we were unable to meet the demand.Please accept our sincere apologies. You will be receiving another opportunity to participate in this offer shortly via the email you provided to register for this promotion. In the meantime, please rest assured that we will not be saving your email address in our database for any future solicitations.
---