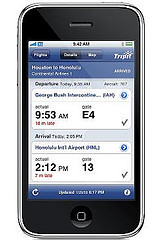 There's a slew of new smartphone applications out there targeting the business and leisure traveler. Of the 900+ available,
the USAToday recently tested
a few of the most popular iPhone travel applications.
FlightTrack
($4.99) "provides real-time flight status with scheduled departure and landing times, as well as actual takeoff and projected landing."
WorldView Live
($2.99) shows video streams from 6,000 webcams worldwide.
Babelingo
($3.99) "contains 300 useful phrases and words in 11 languages."
Zagat To Go '09
($9.99) gives you access to all those whimsical Zagat reviews.
Excess Baggage
($1.99) gives you the skinny on all the airlines' policies on baggage. Free aps include
Where
("find local points of interest from your current location"),
Global Wi-Fi Finder
, and
Simultravel GPS Lite
which "displays an interactive map of hotels near you with their rates on the day of search."
---