Travel in Rajasthan, India: Camel Trekking Near Jaisalmer
---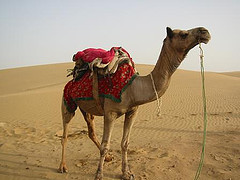 Last Stop: Hope You've Enjoyed Today's Ride
The city of Jaisalmer is like a fairy-tale castle out of "Arabian Nights." Dating from 1156, its amber-colored walls blend with the surrounding elements and seem to emerge from the desert sand. Located at the edge of the Thar Desert, near the border of Pakistan, Jaisalmer was founded on the historic crossroads of lucrative trade routes. The "Golden City" was an important gateway for the camel caravans from Central Asia and grew prosperous from this trade. Thus within the scorching heat of the desert, this remote frontier settlement developed a beautiful and isolated cultural tradition. For years the city was unscathed by outside influences, its rulers the last to succumb to British rule.
The 800-year old Jaisalmer Fort looms 30 meters over the city. Enclosed within its ramparts is an entire living city, the narrow lanes lined with shops and beautiful Jain temples dating from the 12 century. The citadel preserves a medieval way of life, its resident craftsmen weaving traditional rugs and designing silver jewelry. Stroll through the cobblestone streets of the old city and see the havelis, the mansions of the rich and powerful Jain merchants. These businessmen hired stonemasons to design their sandstone mansions, the facades delicately carved like intricate sculptures. Patwon ki Haveli is the most elaborate and magnificent of all the Jaisalmer havelis.
Where to Stay?
From Jaisalmer, visitors can venture on overnight camel expeditions into the Thar Desert. The ride? Blankets are piled high across the camel's hump, the reins in hand elaborately decorated with leather tassles. The vistas? An endless sea of sand stretching in all directions, the dunes shifting and changing in the wind. But a word of warning: camels can be full of personality, and lots of gas. I mean, so flatulent—LAWD!-- they stink to high heaven.
---

Related Hotels