Travel in Rajasthan, India: A Journey of the Senses
---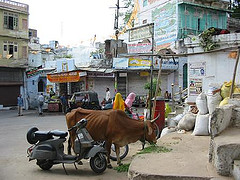 Opening Scene: Backdrop and History
The Rajasthan landscape flies by outside the car window. A wash of sandy beige interrupted by dazzling color: the bright-orange turban tightly coiled on the head of a passing motorcyclist, women clad in magenta or turquoise saris with water jugs balanced on their heads, carts of lemons piled high. And the ubiquitous water buffalo and Brahmin cows with their cute, dropping ears.
Even on a short trip to India, it's easy to become intoxicated by the country's chaotic energy, noise, and cultural history. Rajasthan's temples, palaces and forts are architecturally magnificent. The bazaars are brimming with handicrafts and clothes you'll see in trendy Soho boutiques (marked up umpteen hundred times.) But more than that, traveling through Rajasthan is an experience of the senses: tiny clay pots of sugary chai tea, the smells of spices and sweet fragrances, the kaleidoscope of color in the markets, delectable tastes dancing on the tongue. It's a constant sensory explosion.
Rajasthan's history is shrouded in myth. For over 1,000 years, the northwestern desert state was fiercely guarded by the Rajput clans. These legendary warriors defended their turf with a serious code of chivalry and honor. Thus Rajasthan remained independent from all the encroaching great empires throughout history. Indeed, Rajasthan's city of Jaisalmer was the last kingdom to succumb to British colonization.
No longer just a budget backpacker's paradise, India has become an inspiration for the international jet-set as well. Rajasthan's beautiful Palace hotels can make anyone feel like a modern-day maharajah. The winter is the perfect time to make the trip; the monsoon rains are kept at bay for at least half a year. Hire a driver, bring out the map, and dream up your perfect itinerary.
---

Related Hotels