Tonga: The Overlooked Pacific Island
---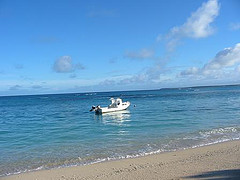 Where on earth is Tonga? Sure, I used to sip those elaborate tropical concoctions at the Fairmont Hotel's Tonga Room in SF, soaking in the kitschy atmosphere, complete with faux-Polynesian glasses and timed thundershowers, that would rain from the ceiling in synch with the cheesy tunes played by the live band (stranded on the—um-- floating "island" that moved across the artifical lake.) But before last year's adventure, I could barely find Tonga on a map, let alone trust the captains of my Air New Zealand flight to spy the air strip among the hundreds of islands in the middle of the Pacific. I was only about to discover this tiny island kingdom in the South Pacific: the first place in the world—positioned just to the west of the International Dateline—to see the dawn of a new day.
Unequivocally, Tonga is paradise: Long stretches of white sandy beaches. Not a soul in sight. A coastline marvel of magnificent blowholes, the surf erupting like geysers out of holes in the reef. Unique and lush vegetation on islands mostly uninhabited, though the main island—Tongatapu—is largely cultivated with fields of taro, sweet potatoes, breadfruit and mango trees. For the adventurous: caves to be explored (bring a torch, and candles to stick in fissures between stalagmites, so that you can swim in the cool freshwater pool in the pitch black of 'Anahulu Cave), snorkeling and diving, yachting in the sailing capital of Vava'u Island, whale-watching tours where you can actually swim with the humpback whales. I laughed in disbelief when the Peace Corps workers in Tonga advised me to track down a local boat operator to ferry me to an outlying island to camp for a day or two. Roughing it "Survivor"-style-- surviving on fish, more fish, and fruit).
The group of islands that comprise Tonga are undeveloped, untouristed, and largely rural. Pigs and dogs root around in the foliage, and lounge roadside, in traditional villages. Above and beyond the very real paradise landscape, Tonga is a place utterly distinguished by its culture, and very serious sense of hospitality. A word of warning: Be prepared to eat. Eating a lot in Tonga gives great joy and pride to your hosts, who will no doubt serve portions bigger than anything you've ever seen. (Guidebooks love to point out how Tongans embrace fatness. After all, the king was in the Guiness Book of World Records for his weight. And I'm yet to find another place in the world where the national airline requires each passenger to step on a scale before departure.)
Christianity pervades all aspects of Tongan culture. It seems (that terrible flick) Mel Gibson's The Passion of Christ generated more excitement in Tonga than anywhere else in the world. On Good Friday, I chatted with a girl in the airport who was on her way home to the neighboring island group of Ha'apai, who complained that it had been impossible to rent it from the video store in town. She was desperate. I watched pirated versions make their rounds around town. Discreetly changing hands in brown paper bags.
On the one hand, Tongans are very proud to say that they have never been colonized—that all the other Pacific Islands are under the jurisdiction of some foreign power-- but on the other hand, Tonga is very much colonized by religion. Indeed, it seems there are more churches in Tonga than there are villages (there are often multiple churches of different denominations in one village.) And all businesses—even Royal Tongan Airlines—are closed on Sunday. This same Good Friday, I saw a man walking down the road, burdened by the weight of a large white cross, with a trail of people behind him. We were in a Catholic village, and a series of shrines had been erected all along the road. These towering crosses—draped with woven pandanus mats and artificial flowers and images of Jesus—seem to be the ultimate fusion of cultures.
Ready to lounge and eat, lounge and eat, like the locals? For the ultimate Tongan vacation, head to the awesome, German-run Sandy Beach Resort, in the Ha'apai island group. Bungalows are set right on the beach, with the outlying coral atolls perfect for snorkeling. Meals are lavish and delicious. Royal Tongan Airlines flies daily from the capital, Nuku'alofa, (a 45 minute flight) though the airline is notorious about delays.
Want to know more? The Tonga Visitors' Bureau has posted extensive information on their website.
---