The World's Top Private Island Resorts: The Caribbean's Peter Island
---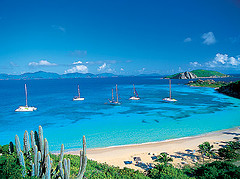 It's no surprise that the otherworldly
Peter Island Resort
, the exclusive 1,800-acre private island in the British Virgin Islands famous for its private beaches and luxurious spa, landed a spot on
Away.com's "The Perfect 10 Private Island Resorts."
We were smitten with
all the details of the author's blissful day in paradise
. At 1 pm:
I take the resort's shuttle to White Bay Beach – one of five secluded Caribbean beaches exclusively used by resort guests and about half a mile from my suite – where I dip into the peacock-blue water. Beneath me slithers a spotted eel, and I watch a rainbow-colored parrotfish peck at the seafloor. This may be snorkel-bliss, but one day I'll go deeper, diving the nearby wreck of the HMS Rhone a la Jacqueline Bisset in The Deep. I emerge to find a staff member delivering my idea of the perfect picnic: brie, fruit and chocolate-chip cookies, served on a silver platter.
---