The World's Tallest Skyscrapers: Move Over, Sears Tower and Empire State Building
---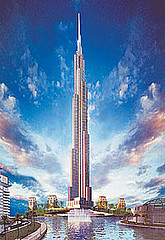 We've been
following the steady growth of the Burj Dubai as its spire gets higher and higher-
its final height planned to be 1,000 feet higher than Taipei 101, the world's current record holder. But tall building construction is not limited to the Burj Dubai, the $1 billion anchor of a $20 billion development in downtown Dubai. There's the
Mubarak al-Kabir tower in Kuwait
, the Russia Tower in Moscow, and the Incheon Tower in South Korea.
As the New York Times recently pointed out,
supertalls
are "rising at a frenetic pace around the globe," especially in Asia and the Middle East, reflecting the "expanding economies of these regions and their desire to compete for international status and business." The list of the 20 tallest buildings in 2020 will include only 2 properties from the U.S.: the Chicago Spire and the One World Trade Center (Freedom Tower) in New York.
---