The World's Tallest Hotel: Shanghai or Hong Kong?
---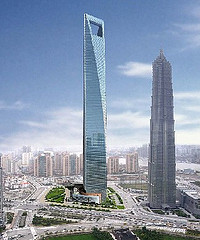 And the battle wages on... Hotels around the world vie to be the tallest, most luxurious, in a spectacular display of one-upmanship. Five, Six, Seven stars? (
What's the legal limit, anyway?
)
Business Week recently highlighted
the
Park Hyatt Shanghai
, located on floors 79 to 93 of the Shanghai World Financial Center, as the world's highest hotel:
See that nice pagoda-shaped building you're looking down on out the window? Yeah, that's the Jin Mao Tower, and it's about 40 meters taller than the Empire State Building in NYC.
Floor-to-ceiling windows from China's tallest building provide incredible views (through the smog, of course.) And though the Burj Dubai may be the world's tallest building, the "world's highest hotel" title currently belongs to the Park Hyatt Shanghai. Until the completion of the International Commerce Center in Kowloon, that is. Then the planned 7-star Ritz-Carlton will steal the title.
---