The World's Gambling Capital Shifts East: the Mad Macau Makeover
---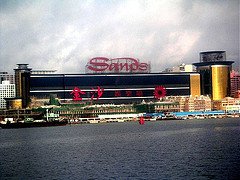 That's right. The tiny, former Portuguese colony in China surpassed Las Vegas as the world's biggest gambling city, its casinos raking in $6.8 billion last year. According to the Telegraph:
Hollywood has led me to believe that the really high rollers jet into the casinos of the Bellagio or the Venetian in Las Vegas. But I was wrong. In terms of sheer spending power nowhere comes close to this former Portuguese colony, which now services the immense desire of the growing monied classes of China to gamble. Here, the average take per table per day is $18,000. In the VIP rooms that flank the main hall, $50,000 bets regularly change hands-- and it is on these private tables that nearly three quarters of Macau's gambling revenue is made, compared with just 25 per cent in Las Vegas. The slot machines in Macau largely stand empty, yet in Vegas they make three quarters of the profits.
And Las Vegas-style luxury hotels are on the rise: the $240 million Sands opened in 2004; the Wynn Macau is scheduled for this year, along with the $800 million sister hotel to Las Vegas's Venetian. Apparently, Macau is due for its own $1 billion MGM-Mirage, complete with underwater casino, and luxury hoteliers like Four Seasons, Hilton, InterContinental, Starwood, Park Hyatt and Shangri-La are staking out their territory.
Related Articles:
The Informed Traveler, "What's Up With Macau?"
---

Related Hotels