The U.K.'s Holiday Inns Offer Human Bed-Warmers
---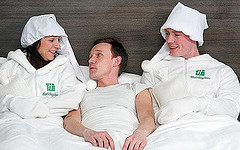 We're filing this one under strangest hotel amenities we've ever heard of. Human bed warmers (
insert joke here
) are being offered by Holiday Inns in London and Manchester.
According to the Telegraph
, "the walking electric blankets are dressed in special all-in-one sleeper suits and are sent to warm the beds of guests staying at the Holiday Inn before they get under the covers." The idea behind the five-minute warming sessions? Create the temperature-perfect conditions for a good night's sleep.
---