The Talk of the Town: Hotel Particulier Montmartre, Paris
---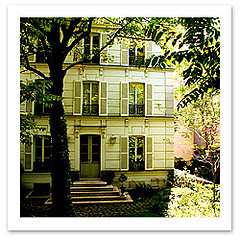 Tucked away in the winding alleyways of Montmartre, a charming and chic new hotel made its debut this summer. From the façade, the
Hotel Particulier Montmartre
appears to be a 19th century country house, surrounded by leafy landscaping and secluded private gardens. Though there are only five guest rooms, this interior space is a dream of modern design.
Vogue
(September 2007) praises the "distinct personalities" of these magical spaces designed by a graphic designer, a
Musée de la Mode et du Textile
curator, and three artists. From fanciful fashion to ornate rococo style, the guest rooms embody the best of high design. Choose the top-floor miniloft for incredible Paris views.
Be forewarned: finding the entrance amidst the tiny rues of hip Montmartre is not for the faint of heart.
---