The Quest for the Perfect Martini Leads to the World's Best Hotel Bars
---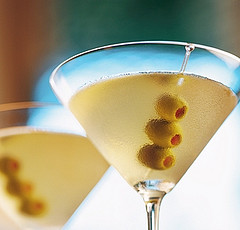 Are martini moments becoming rare around the world? Should we worry about the vanishing martini? Journalist and foreign correspondent
Susan Spano describes her quest for the perfect martini in a fabulous recent article.
It seems it's pretty hard to find "the elixir of the gods-- a dry martini, straight up" in cities like Rome. Your best bet? Storied hotel bars. Here's where Spano's had some success in
her martini search:
Martini connoisseurship gives travelers the chance to visit such storied places as the Gritti Palace in a 16th-century Venetian palazzo, Winston Churchill's beloved Mamounia Hotel in Marrakech, Morocco, and the Yoshiro Taniguchi-designed Okura in Tokyo.

And when you also get a good martini, you never forget it. I well remember the one I had a few years ago at the Metropole Hotel in Hanoi, Vietnam, possibly on the same bar stool as Graham Greene.

I loved drinking martinis elbow-to-elbow with politicos at the Willard InterContinental's Round Robin bar in Washington, and at the Hotel Astoria in St. Petersburg, Russia, where the bartender advised me to order my drink with creme de la creme Russian Standard vodka.

A really good martini engenders reverie, which is why I was pleased to get one in August at the Connaught Hotel near Grosvenor Square in the Mayfair district of London. The first-floor bar there features sleek, sexy, retro-Cubist decor. The waiter came with a silver shaker and a big, chilled flute on a tray, poured my drink and left me in paradise to determine my future and that of the world.
---