The O Property Collection to Build $1 Billion Hotel Development, Turks and Caicos
---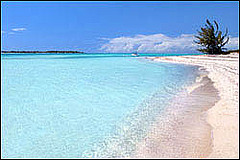 It's being called the "largest development in the hemisphere." The O Property Collection has announced its development of 2.24 sq-mile Dellis Cay, a breaktakingly beautiful island in the Turks and Caicos. With stunning tropical beaches and lagoons, the islands are also known for their spectacular diving and snorkeling, as the third largest coral reef system in the world is located just off-shore. This flagship project is located just 20 minutes from Providenciales. According to Travel Weekly:
Scheduled to open in 2008, the project is estimated to generate a billion dollars worth of sales within the next five years… The development will be divided into lifestyle zones, each designed by a different architect. OPC, which also has projects planned in the Mediterranean and Asia, will partner with hotel management companies to run the individual properties worldwide. Although each property development will be different, Kinay said that they will all "bear the marks of the OPC signature brand -- timeless architecture, sleek design, a fit with the natural surroundings and the finest in amenities and services."
But the company's website is remarkably vague about a project of this magnitude:
The Project involves building infrastructure and about 70,000 square meters of construction within the next three to five years. On the island, which will be divided into "lifestyle areas" designed by the world's foremost architects, the focus will be on creating an upscale, exclusive private island serving the needs of affluent travelers.
---

Related Hotels