The Newly-Renovated Pan Pacific Singapore: Custom-Designed Traveler Technology and More
---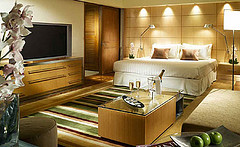 The best thing about the
Pan Pacific Singapore's
new multi-million dollar renovation?
Custom-tailored traveler technology.
Tech-savvy guests will be thrilled with the new enhancements. In each room, a sophisticated
Audio-Visual Portal
was installed to offer integrated audio-visual output solutions via the
Flatscreen LCD TVs.
Translation:
You can connect your laptop, digital camera, video camera, and iPod to the TV. Of course
Wifi
is available throughout the hotel. And 38 suites in the hotel were fitted with
Bose Home Entertainment Systems
(3-2-1 GS Series II) with radio, CD and DVD functions. Guests can enjoy home theater sound delivered via two advanced Gemstone speakers. Rooms also boast
electronic remote-controlled Roman drapes and sun filters framing the full-length window views
of the city or harbor. You can control lighting, air conditioning, and bedside clock functions via an all-in-one bedside table panel.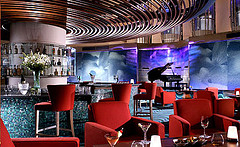 Recognized as one of the Top 50 Asian Hotels by Condé Nast Traveler, Pan Pacific Singapore is one of the world's finest business hotels. Indeed when the Executive Center opened on level 22 in 2005, it was the first hotel business center to occupy an entire floor. (And there's a round-the-clock Business Concierge to take care of innumerable requests.) Situated in the heart of Marina Bay and linked via skybridge to three shopping malls, the Pan Pacific is 37 floors of luxury with awesome views of the city. The hotel boasts the tallest Atrium in SouthEast Asia, to boot. In January 2008, the recent renovations unveiled 778 contemporary rooms with new furnishings, bathroom fixtures, and ergonomic chairs and large work areas. Guests also enjoy a multitude of award-winning dining and entertainment options and leisure facilities at the Wellness Village including a gymnasium, spa, swimming pool and tennis courts.
---