The New Chunnel: Europe-Africa Train under the Strait of Gibraltar
---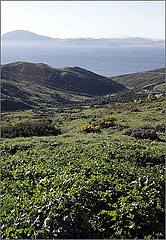 The dream of connecting the two continents-- only nine miles a part at the narrowest point of the Straight of Gibraltar-- may at last become a reality. After years of terrain tests, engineers have come up with a blueprint plan for a high-speed rail tunnel connecting Europe and Africa.
As reported by the Associated Press
:
This tube for passengers, cars and freight would bore deep under the Strait of Gibraltar, the narrow waterway where the Atlantic flows into the Mediterranean, and run from Tangier, Morocco, to the Spanish town of Tarifa at Europe's southernmost tip, possibly extending further both ways in the future. Big-name European engineering consultants brought in a few months ago are to complete a feasibility study this year.
This would be a true engineering marvel, the deepest underwater tunnel anywhere. There are plenty of challenges. At the proposed project site, the water is about 1,000 feet deep, six times deeper than the depth of the English Channel where the Eurostar tunnel is located. In addition, there are geologic complications, as the terrain is muddy and unstable with pockets of debris from tectonic slides. If the Straight of Gibraltar Project gets the green light in 2008, the cost would be over $13 billion and take about 20 years to construct.
---