The Most Expensive Christmas Presents
---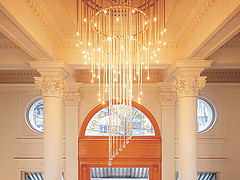 Around the world in 24 days? Just pony up $97,970 for a five-star Abercrombie & Kent itinerary onboard a Boeing 757 reconfigured for just 50 passengers. Or how about perfume? Get your hands on the world's most expensive fragrance: a Baccarat crystal container with a 5-carat diamond set in 18-karat gold containing 500 ml (17 fl oz) of the Imperial Majesty version of No. 1 for Women. Asking price? $215,000. Or maybe you covet a designer cat for your sweetheart? The price tag for an Ashera (hybrid breed resembling a mini-leopard) is $22,000.
Reuters has the scoop
on the priciest holiday gifts out there.
---