The Maldives: Vacation Paradise to Become the First Carbon Neutral Country
---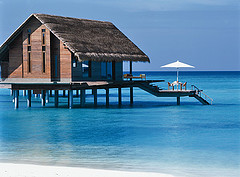 In recent years, the dreamy tropical islands of
the Maldives
have emerged as one of the hottest destinations for A-listers and honeymooners. The setting-- crystal clear waters lapping coral atolls fringed with sandy beaches-- is almost impossibly beautiful, and luxury hotels with overwater bungalows abound.
Now The New York Times' Dot Earth blog gleefully reports
that this island nation has pledged to become the world's first carbon neutral country, welcome news for the world's citizens who are increasingly concerned about global warming. For a country that is about six feet above sea level, the issue of rising seas (due to global warming) is crucially important. The goal is to switch from oil to 100 percent renewable energy production within a decade, so that the Maldives will no longer be a net contributor to greenhouse gas emissions:
The proposal recommended a mix of wind turbines, rooftop photovoltaic panels and a backup power plant that burns coconut husks (coconut is a substantial export), among other steps. The estimated cost: about $1.1 billion over 10 years. But the new energy options could pay off in the long run by greatly reducing the country's reliance on imported oil, the report concluded.
---