The Luxury Yacht Program at Peter Island, British Virgin Islands
---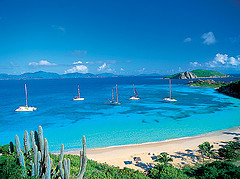 The exclusive, private-island resort of
Peter Island
has unveiled an official yacht program designed to welcome a limited few sailing through the BVI's world-famous waters. Created for the crews of luxury vessels up to 175 feet in length,
the program offers yachters all the privileges of a resort guest, plus a few extra amenities designed around their special needs.
Consistently ranked as one of the world's best resorts, the 1,800-acre Peter Island boasts private beaches galore, a sophisticated spa, award-winning dining, and a whole lot more.
Here's what's included: a group dinner in one of the resort's venues, a half-day spa experience (two treatments per person), dockage, unlimited power water and ice, a 10 percent discount off oil and diesel, and unlimited use of the resort's launch to Tortola. All this plus a welcome amenity gift, Internet use via WiFi and terminals, free use of all of Peter Island's non-motorized watersports equipment, an invitation to the weekly manager's cocktail party and Club Room privileges. To ensure the highest levels of attention to details and service, this offer is under the direction of Peter Island's Villa Department. (The luxury private villa collection provides the ultimate getaway for gatherings of families and friends.)
The cost based on 12 adults: $13,650 per day (additional adults: $600 per day); for 6 adults: $8,100 per day (additional adults: $925 per day); children: $250 per day.
---