The Hydroponic Farm and Organic Gardens at Cuisinart Resort and Spa, Anguilla
---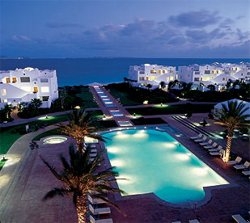 As if we needed another reason to love this Caribbean resort of whitewashed villas and turquoise infinity pools...
Cuisinart Resort and Spa
boasts the world's only hydroponic resort farm- saving water through the use of recirculation systems and drip irrigation, recycling the drainage from the greenhouse to feed the outdoor landscape plants. This soil-free growing process produces fresh, quality vegetables and edible flowers that are harvested daily and used in the resort's kitchen by Executive Chef Daniel Orr and his team. What's more-- the plants and flowers also serve as ingredients in treatments at
the newly-expanded spa.
Guests can tour the farm with the manager on Tuesdays, Thursdays and Saturdays at 11:00 am. See the greenhouse (built to withstand winds of up to 110 mph), lettuce ponds, and raised beds containing herbs and peppers. The organic garden is likewise brimming with colorful produce all year round-- Caribbean callaloo, black-eyed peas, peppers, pumpkins, okra, soybeans, Chinese long beans, and melons-- while fruit-bearing trees in the orchards produce avocados, guavas, tamarinds, limes, oranges, and star fruit.
---