The Hotel Rival: Stockholm's Most Exciting Hotel
---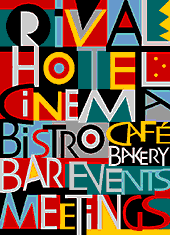 Stockholm's Hotel Rival is the epitome of cool. Hip, lively, colorful, and chic, the city's first boutique hotel is a modern masterpiece of design. (As to be expected of one of Sweden's finest hotels.) On a recent visit to the Hotel Rival, I decided I could camp out there for quite a while. Whether it be in the lobby (swooning over the stylish furniture), on-site bakery (stuffing my face with homemade breads and tasty pastries), the gorgeous bar (pretty-people-watching), or the on-site cinema (oohing and ahing a little bit more), I found the Hotel Rival to be the kind of friendly and exciting boutique that every city should wish for.
On the way to the hotel, flying over the islands that make up Stockholm's archipelago, my taxi driver told me that Paris Hilton much prefers the Hotel Rival to her Daddy's Hilton, right next door. No surprise there. Paris isn't the only one who adores the Hotel Rival. From Pop stars to business-folk, the hotel's clientele keep coming back for the thoughtful service, cutting-edge technology, and careful attention to detail. Of course there's also the star factor. This crib belongs to Benny Andersson, the ABBA legend. The Swedish version of Mama Mia! has recently debuted in Stockholm, much to the city's delight, and CDs (along with ABBA memorabilia) are available for purchase in the lobby.
The Hotel Rival is a major gathering place in Stockholm. The gorgeous cinema--showcasing original historical touches after its lux renovation-- is now the scene of fashion shows, parties, concerts, and film screenings. Indeed, the cinema motif is dominant in the hotel's design: the comfortable bistro features wall paneling with a mosaic of 924 film star images, and each guestroom is adorned with a scene from a vintage Swedish film, the glass-covered canvas suspended above the beds.
Ahhh the rooms. Perfectly comfortable and highly sophisticated, the guestrooms embrace a sleek modern minimalism which hasn't abandoned function over form. The DUX beds are heavenly, with luscious linens, Egyptian cotton sheets, a special pillow menu, and the signature teddy bear from Debenhams. Some rooms feature a windowed wall between the bathroom and bedroom, allowing guests to soak in the tub while gazing out into the room. Of course the guestrooms and suites are loaded with technology, from 32" plasma screen TVs, DVD/CD players (and plenty of DVD rentals), PlayStation2, and wireless internet access.
The Hotel Rival is Stockholm at its finest.
---

Related Hotels