The Grand Opening Celebration of The Peninsula Shanghai
---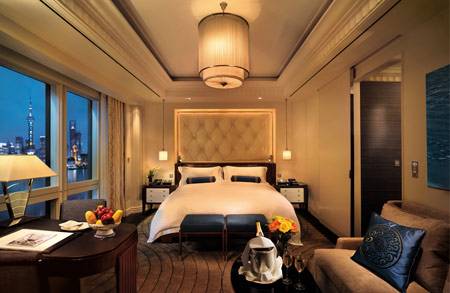 The Peninsula Hotel Shanghai
opened its doors last fall for a special preview, and now the dazzling new hotel is prepping for its Grand Opening which will welcome 4,000 international guests to the Bund this coming Friday. As detailed in an
excellent article in Sunday's Los Angeles Times
, this debut marks a special homecoming for the brand, whose corporate parent, Hong Kong & Shanghai Hotels Ltd., started in Shanghai in 1866. The hotel's white-gloved service and jaw-droppingly opulent facilities certainly "hark back to city's 'Paris of the East' days." The first new structure to be built on the world-famous Bund riverfront since the Bank of China in 1927,
The Peninsula Shanghai
brings back the glamorous travel of yesteryear. But that doesn't mean old-fashioned luxury.
To quote the Los Angeles Times
:
The electronics were amazing. Everything operated from keypads, and all outlets were dual voltage. New to this Peninsula are iPod docking stations and the keypad on the bathtub wall that operates the radio, the flat-screen TV at the foot of the tub and the "Do Not Disturb" functions on both the room door and the telephone. Later, I tried them all while having a long soak. "We have 40 engineers in Hong Kong who do nothing but develop new toys for us," Paul Tchen told me. Toys such as that nail dryer and the light that went on as I reached for the remote control on a shelf under the TV.
Hotel facilities include 23 high-end arcade shops (including Prada and Chanel), a spa and fitness center, and a 25-meter indoor pool with a skylight.
---