The Gossip in London: Goring Hotel to Host Prince William and Kate Middleton's Wedding Party
---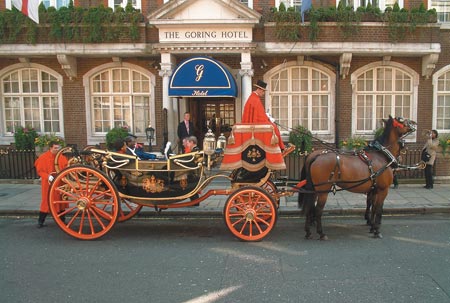 The report from London is that the
Goring Hotel
in Belgravia will host some very important guests for the April 29 royal wedding. Not only is the deluxe hotel a quintessentially English haven, it's also ideally located next to Buckingham Palace-- where the reception will be held after Prince William and Kate Middleton tie the knot at Westminster Abbey. Apparently the bride herself will stay on the premises the night before the big day.
The Daily Mail has the scoop
:
If Kate also stays there, it would be in tune with her wish to ensure her wedding is not overblown with pomp and pageantry — she has, remember, declined a horse-drawn carriage ride to the Abbey, choosing instead to go by car. Determined to avoid comparisons with ­Princess Diana, who did go by coach, Kate would avoid another by staying in a hotel. Lady Diana Spencer spent her wedding night at Clarence House, now the home of Prince Charles. Kate is unlikely to want to do the same.
Of London hotels, the family-run Goring is a fine choice. Surrounded by beautiful gardens, the hotel is known for its high levels of personal service. The Guardian says, "It is a place of graces, comforts, old-fashioned good manners and a total lack of snoot." And Harper's Bazaar describes how, at the Goring, "service is paramount and unparalleled in the British Isles."
---