The Gordon Ramsay Invasion: New Restaurant at Trianon Palace in Versailles
---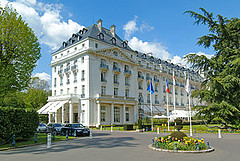 The celebrity chef is moving in on the French,
opening a signature restaurant
at the opulent
Trianon Palace & Spa
in Versailles. Set to open in the spring, the restaurant will be bringing British ingredients (!!!) to the capital of
haute cuisine
. The ambitious chef just opened his fancy Dublin establishment
at the Ritz-Carlton Powerscourt
, and has had his eye on Paris for quite some time. He's creating a global brand and the goal is to achieve three Michelin stars in NY, London, and Paris-- simultaneously.
In a recent interview with The Sunday Times
, Ramsay explained his "culinary patriotism:"
I've had a bellyful of the French coming over and telling us how s*** our food is. We should f****** shout from the rooftops, with our hand-dived scallops from the west coast of Scotland, and our venison from Balmoral, our wonderful Aberdeen Angus steak, and our f****** mussels and oysters from beds in South Ireland. Why not?
---