The Galactic Suite Space Resort: The First Hotel in Space to Open in 2012
---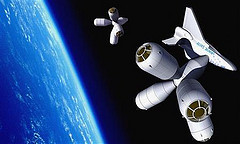 Want to sleep in outer space? Fork over a mere $4.4 million and you'll be able to bunk down for three nights at the
Galactic Suite Space Resort
, after undergoing an eight-week training course on a tropical island. Set to debut in 2012, the first hotel in space will welcome guests to "see the sun rise 15 times a day and travel around the world every 80 minutes"--
to quote Reuters.
"They would wear velcro suits so they can crawl around their pod rooms by sticking themselves to the walls like Spiderman." Gaze at our beautiful blue planet--
the Galactic Suite website says
-- while floating in zero gravity and relaxing in a weightless spa. The multi-billion dollar project, based in Barcelona, is at the forefront of the space tourism industry, and Sir Richard Branson is already on board. His company Virgin Galactic will base their space tours from the hotel. (
Price tag? $200,000 a ride.
) Guess what? 43 people have already reserved their stay at the space hotel.
---