The Dream Within a Dream - The Reserve at Paradisus Palma Real, Dominican Republic
---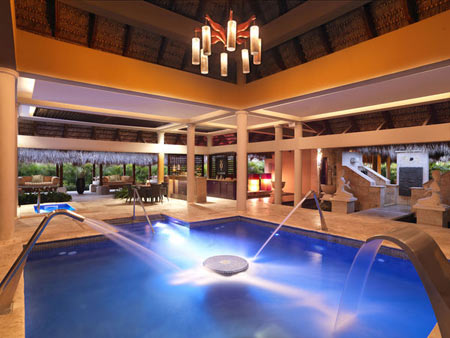 Have you seen the movie 'Inception' yet? I have. It's pretty good stuff. But you're probably now wondering how it relates to luxury travel, and more specifically, this blog. Well, it doesn't really, but I'm making a point here. In the movie, and this is no great spoiler, Leonardo DiCaprio and his 'Inception' co-stars exploit the world of people's dreams for their own various profit motives. Occasionally, when they need to do something especially awesome, they use the famous "dream within a dream" move. The dream within a dream is especially useful for those who might know they're dreaming. Anyway, but I digress. The point of all this is that there is such a place on this great planet that is the luxury hotel equivalent of a dream within a dream, a place so special that only a few are allowed to enjoy its excellence.
That place is The Reserve at Paradisus Palma Real at Punta Cana in the Dominican Republic. You see, Paradisus is already an immaculate resort, with some of the best beaches, dining, golf, and you name it, but The Reserve takes it one step further. With Residential Concierge Suites, Suites with a private garden, Swim-up Suites, and (perhaps the dream within a dream within a dream) Presidential Suites, The Reserve doesn't just want you to stay in luxury. That part is covered. The Reserve wants you to feel like royalty. You, and your family of princes and princesses if you so desire, will be made to feel like the king and/or queen that you deserve.
So while you may not have seen 'Inception', you can still be a part of that dream within a dream at The Reserve at Paradisus Palma Real at Punta Cana in the Dominican Republic.
---