The Colony Villas at Half Moon Bay
---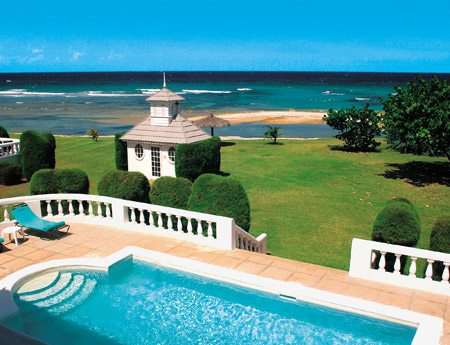 Located in the exclusive Rose Hall area in Jamaica,
the Colony at Half Moon
, scheduled to open in 2010, offers unparalleled views overlooking beachfront property near Montego Bay. Located within the
Half Moon Resort
, the Colony will feature 30 luxurious villas offering a choice of three, four, or five bedroom villas, all with personal pool, dining area, gardens, terraces and verandas.
The Colony at Half Moon
is an experience unlike any other in the Caribbean. Each bedroom will have a private bathroom, and each villa is provided with its own personal cook, gardener, housekeeper, butler and laundress. In addition to the wealth of activities to do at your personal villa, the
Colony at Half Moon
also offers a variety of services and facilities including a spectacular golf course, the
Spa at Half Moon
, multiple bars and restaurants, a dolphin lagoon, equestrian centre and a shopping village. Enjoy a unique Jamaican vacation in style.
Publisher Update: I just received the following note from the hotel with updates:
Much in the spirit of the founding families of Half Moon, The Colony is a singular opportunity for visitors to our treasured resort to become a part of the Half Moon heritage through ownership of a luxurious villa at The Colony at Half Moon.
These opulent, spacious three-, four- and five-bedroom villas will offer both villa owners and guests an unparalleled level of comfort, service and amenities. Planned for 14 acres of Half Moon's 400-acre estate, visitors to The Colony at Half Moon will enjoy an even deeper sense of home with the attentive care of a butler, cook, housekeeper, laundress and gardener in surroundings designed to offer the very best of gracious Caribbean living.
The Colony at Half Moon signals the final phase of a vision that began in 2003 to bring about a renaissance at Half Moon that would see our beloved resort being a part of the legacy for another generation of guests. Step by step with your unwavering support, we have renovated, refurbished and upgraded the facilities, services and amenities offered at Half Moon. The feedback from you and your clients have been invaluable in helping to shape and guide the direction we have taken over the years. With this new offering and all that The Colony villas promise, we are confident that we will have a product to which you will be even more proud to send your clients.
Equally, we are mindful of the treasured clients you will continue to send to Half Moon while The Colony is being erected. Let me assure you that every measure is being planned to ensure that any work relating to The Colony will have minimal impact on the comfort, enjoyment and experience you and your clients have come to expect of Half Moon. Thanks to the vast space and layout of Half Moon, The Colony has been planned for a small area of our 400 acres that is away from guest accommodations. We are confident that our mutual clients will continue to have memorable experiences at Half Moon and will enjoy even more the experience The Colony will offer.
For your information, please find attached aerial views of the resort that outline the space designated for The Colony at Half Moon. Also attached are renderings of the aesthetic hoardings and pathways planned for the site. We have also included for your interest architectural renderings of The Colony villas. While work is scheduled to begin within the next 16 months, much of that is contingent on the success of the project's pre-sale efforts. The response to this offer has been very positive and we believe the project should remain on schedule with an estimated completion in late 2010.
---