The Changing Face of Shanghai
---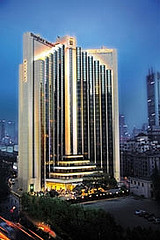 The NYT reports on the phenomenal building boom that is transforming Shanghai at a feverish pace. My recent memory of Shanghai (2004)-- a landscape ravaged by industry, blanketed by pollution, and marked by strangely toxic sunsets over the Bund but also steeped in fascinating history and culture-- is barreling towards an unrecognizable future. The biggest city on Earth is about to get a whole lot bigger: host to the biggest ports, one of the biggest automobile factories, the biggest shipyard, Asia's largest shopping mall, and mammoth, futuristic skyscrapers dominating the Pudong riverfront. Shanghai's got its eye on surpassing New York in magnitude, size, and industrial infrastructure. And the trends I noticed a few years ago-- skyscrapers shooting up as quickly as bamboo stalks, the neon hovering and enormous in the smog, the transformation of the cosmopolitan face of modern China-- will continue at breakneck speed. As reported by the NYT, conservationists and critics bemoan the city's cultural losses: the architecture and personality of a city that has such a storied history, including its 19th century imperial division into autonomous colonial possessions, each ruled by the Brits, French and Americans. Historical neighborhoods of winding alleyways, open air markets and rich, authentic street life are set to be demolished.
Like China's capital, which is undergoing a crash rebuilding program in time for the 2008 Summer Olympics, Shanghai is using its role as host of the World Expo to shift what had already been a hugely ambitious remake into high gear. By the standards of recent urban development projects in the West — the so-called Big Dig in Boston, say — the scale of what the city is undertaking is astounding.

Along the western banks of the Huangpu River, site of the historic Bund thoroughfare, a 2,000-plus-yard-long stretch of the waterfront is being razed and redeveloped. The essence of the Bund, a virtual museum of Western architecture, flush with classical, Gothic and Art Deco landmarks, will be preserved, but densely inhabited neighborhoods at its edge are already being demolished.
Talk about ambition. As the city "aims for the top as it ascends the hierarchy of world cities, with one eye on longtime champions like New York, and another on its fraternal rival, Beijing," its rich heritage will perhaps be lost forever. Best to get there fast before a new breed of skyscrapers (already twice as many as New York's) paves China's quintessential urban cityscape.
---

Related Hotels