The Caves, Negril, Jamaica: The Sports Illustrated Models Hang-Out
---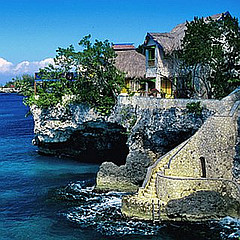 Beyonce's cover shot for the
Sports Illustrated 2007 Swimsuit Issue
sure generated a lot of buzz. But even more buzzworthy is the Jamaican setting for the photo shoot. Where exactly were the Sports Illustrated models cooling off by the ocean? Surrounded by dramatic cliffs and coral reefs,
The Caves in Negril
provided the beautiful sanctuary and luxurious accommodations for the magazine's 2007 issue. Ten handcrafted cottages are nestled in lush gardens at the edge of the sea. Within a grotto in the cliff overlooking the ocean, the restaurant is impossibly romantic, lit by candles and strewn with flower petals. There's even an
Aveda
mini-spa. The Caves is a favorite for high-profile events, but also adored by couples who value their privacy. On the island's westernmost tip, Negril entices with the best beaches in Jamaica and miles of coral reef just offshore, teeming with marine life for excellent scuba diving and snorkeling. Visitors are drawn to Negril's laid-back roots, and casual, cool attitude.
---