The Best Afternoon Tea in London at The Berkeley
---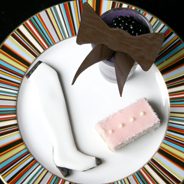 We aren't the only ones to think
The Berkeley's
Afternoon Tea is
tops in London
(if not the world).
The Washington Post recently scoped out the scene
in London, seeking the quintessential English experience. The verdict? See below:
"Name a swank hotel—the Ritz, Brown's, the Dorchester—and you can count on finding a lavish tea. But for my money... The Berkeley's Pret-a-Portea, a fashionista's afternoon tea, wins hands down.

In my cup is a most delicious sip of pear-caramel tea. The waiter presents a tier of tiny canapes, identifying each: crust-less sandwiches of ham, cheese and cucumber; cherry tomatoes stuffed with couscous; salmon in a snaillike curl. Finally, the waiter offers what I'm here for: a fanciful array of cakes and sweets, whose colors and shapes replicate the creations of top fashion designers for the season. Framed photos display each item's inspiration. The pink-iced, chocolate-sashed cookie-dress is a Michael Kors; the sky-blue-iced, lemon-sponge, handbag-shaped concoction, an Anya Hindmarch; in all, nine delectable works of art. And truly, the sight of my proper Englishman at the next table biting into a pastry shaped like a Manolo Blahnik stiletto is quite worth the price of the tea on its own."
---