The Athenaeum Hotel London's Redesign
---
From Jonathan Critchard, General Manager, The Athenaeum Hotel and Apartments
Mr. Critchard at The Athenaeum Hotel in London sent us the following note aimed at new or returning guests, to make sure they are aware of some changes the hotel is undergoing.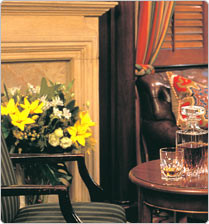 January 2006 sees the start of a stunning redesign of our ground floor, incorporating the lobby, lounge, restaurant and bar. Led by the vision of Martin Hulbert, responsible for the award winning interior design of our sister property, The Grove, the existing interiors will be entirely replaced by a new scheme. Renowned for his inspirational creativity, he will be developing a style that is both quintessentially English, but also modern in its opulence and feel.

During this period,we are temporarily relocating our entrance to the side of the hotel on Down Street. However, the show goes on!

Our reception and concierge are operating from the First Floor. Alex, Donald, Duncan, Jim, John and the rest of our team are still here to ensure you enjoy your stay and your time in London.
The Athenaeum Hotel and Apartments, Official Site
The Athenaeum Hotel and Apartments, Five Star Alliance
---

Related Hotels