Thalassotherapy Demystified
---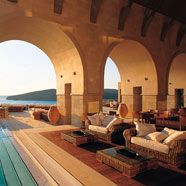 If you've spent time on
Five Star Alliance
, you may have noticed quite a few spas that offer Thalassotherapy. So what is it? Thalassotherapy is the therapeutic use of seawater and sea air. Originally used to treat joint troubles and injuries, the properties of seawater are also believed to have beneficial effects upon the pores of the skin. Thalassotherapy was developed in seaside towns in Brittany, France during the 19th century. Trace elements of magnesium, potassium, calcium, sodium, and iodide found in seawater are believed to be absorbed through the skin. The therapy is applied in various forms, as either showers of warmed seawater, application of marine mud or of algae paste, or the inhalation of sea fog. For it to be true Thalassotherapy, the simultaneous use of sea water and sea air should be used. In various forms and treatments, Thalassotherapy can be found at
Blue Palace Resort and Spa
in Crete,
Divani Apollon Palace And Spa
in Athens, just to name a few of the many European hotels that offer the service.
JW Marriott Ihilani Resort and Spa
in Hawaii offers Deluxe Thalasso Therapy with Color and Essential Oils. And the The Thalasso Spa at
Point Grace Resort
on Providenciales is a full-service European-style Thalassotherapy spa.
---