Talk of the Town: Yotel to Open a Pod Hotel in New York
---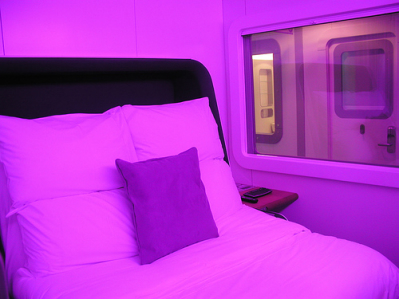 Ever bed down in a "pod" hotel at the airport? Managed by
Yotel
, these genius "pods" offer a place of rest for international globetrotters between flights. (Book a four-hour stay in a tiny capsule for pennies.) Yotel runs pod hotels at Gatwick, Heathrow, and Amsterdam's Schipol airport. Up next for Yotel: a 669-rom hotel in New York's Times Square, slated to open in 2011.
To quote The Financial Times:
"Rather than four-hour stopovers, the New York Yotel will offer conventional overnight stays, charging $200-$250 a night in capsules about twice the size of Yotel's airport accommodation, and incorporating motorised beds, "monsoon rain showers" and purple mood lighting."
---