Take a Virtual Tour of Hesperia Madrid
---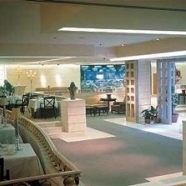 So maybe you're a visual person. Reading about a luxury hotel might not do it for you. So why not take a luxury tour from the comfort of your own computer?
Hesperia Madrid
is offering a 360 degree virtual tour of its property
here.
You can explore their suites, meeting rooms, gym, and conference rooms all before you check in. And while you can't taste the Mediterranean cuisine at La Manzana, you certainly can see the gorgeous space where dinner is served.
---