Swiss Massages Get the Hawaiian Touch at Villa Principe Leopoldo
---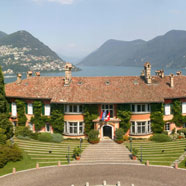 What can happen in 100 minutes? You'll find out at the Conde Nast Award-winning Swiss hotel
Villa Principe Leopoldo.
For starters, you'll be on your way to Hawaii, via Switzerland.
Villa Principe Leopoldo
is offering a special package for those who want to visit their jewel of a beauty spa. You'll get two nights and three days in a peaceful, spacious Parco room at the residence of
Villa Principe Leopoldo
. You'll get the 100-minute KISO Facial "Hawaii." Exclusive products that are highly effective yet gentle and sweetly scented make for a natural, soothing, and harmonious facial. Couple that with the KISO Beauty massage, 60 minutes of a spiritual massage against a backdrop of heavenly music, and you really will think you are in paradise.
Prices start at CHF 1,980 / € 1,238 double occupancy.
---