Summer Specials in Rome at the Hotel Hassler
---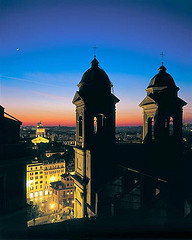 The
Hotel Hassler
has pampered guests with the highest standards of service and an elegant ambience for over a century. Situated at the very top of the Spanish Steps (the view from this unbeatable location is pictured at right), the
Hassler
was voted No.1 hotel in Rome among
Travel + Leisure's
list of 500 best luxury hotels in the world. The staff will satisfy your every whim, and can even set up half-day tours with personal shopping consultants. Experience the Eternal City at its summertime best and take advantage of the specials offered by this magical hotel. Stroll along Rome's picturesque cobblestone streets, browse through boutiques with the best names in Italian fashion, discover the incredible art and history of the ancient Caput Mundi (Capital of the World), and revel in the city's fabulous nighttime entertainment: outdoor music concerts, dance and theater. From July 27 – September 10, 2008, you can get great value with the "Vacanze Romane" offer which starts from EUR 340 and includes breakfast.
Book the "Magic Roma" package
for two consecutive nights and you'll get even better rates—starting at EUR 320 with breakfast included.
---