Suite Luxury: The Presidential Suite at The Fullerton Hotel Singapore
---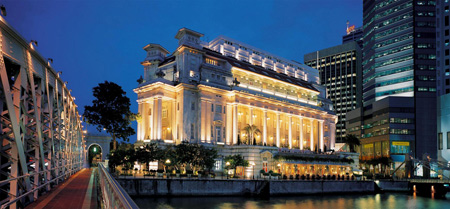 The Fullerton Hotel Singapore
is a five-star luxury property with 400 rooms and suites in the heart of the financial and arts districts. It is just minutes from Singapore's main shopping belt, and overlooks the historic Singapore River. The most luxurious of the hotel's 28 suites is the Presidential Suite, located on the second floor.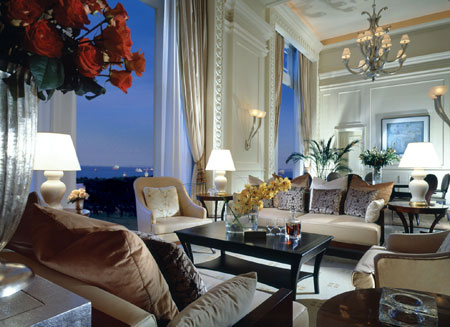 The Fullerton Hotel Singapore's Presidential Suite
Size/Sq. Footage: 2142 square feet
Interior Designer: Hirsch Bedner Associates
Living Room: Colours in the suite are a soothing vanilla, while the curtains are in shades of white and beige. The upholstery used are Decorators Walk dark pillow fabric, Jack Lenor Larsen patterned sofa pillow fabric, and Old World Weavers light coloured fabric on the larger pillows.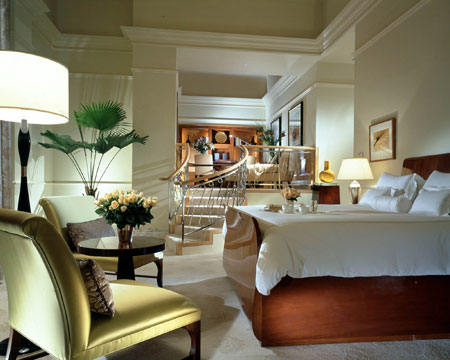 The floor is laid in white marble that gives the suite a clean, airy feel.
Entertainment Area: There is a private elevator at this corner, which is also furnished with a Baby Grand piano and two intricately carved solid wood chairs with inlaid mother-of-pearl.
Study: A private study adjoins the tastefully furnished bedroom, with broadband Internet access for instant connectivity.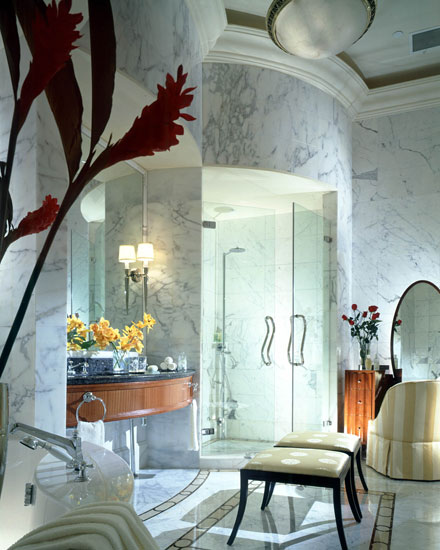 Bathroom: The spacious bathroom, accessoried with Bulgari bathroom amenities, has minimalist, sleek fittings that were selected to complement its modern feel.
Rate: SGD$6,880++ per night, subject to service charge and taxes (currently around USD$5,000)
Fun Facts/Note Bene:
- The Presidential Suite is formerly the card room of the elite Singapore Club.
- The living room, dining room and entertainment area extend out to a spectacular air-conditioned glass-enclosed veranda – an ideal space for guests who wish to host a private dinner for up to 30 people. It is graced by majestic 20-foot high Doric columns characteristic of the building's Palladian style of architecture.
- Guests of the Presidential Suite also enjoy the services of a 24-hour personal butler.
---