Suite Luxury: Fabulous Faena's 3 New Lavish Suites in Buenos Aires
---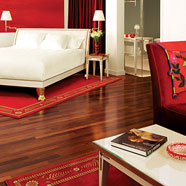 The opulent and gorgeous
Faena Hotel + Universe in Buenos Aires
is just one distinctive part of the Faena Art District in BA, Argentina. With lavish restaurants and bars, authentic theater spaces, an exceptional wine cellar, world-class spa, and top-tier accommodations, the hotel has topped itself once again. At the end of 2007, 3 over-the-top, extremely lavish suites were introduced to the property – F Suite, Tower Suite, and Imperial Suite (click on the images below for the bigger pictures).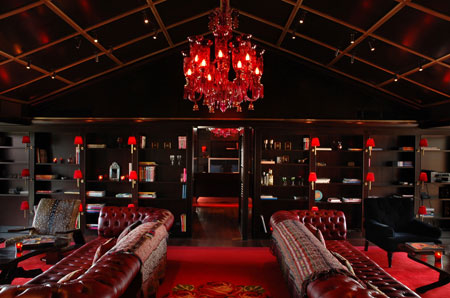 The F Suite, the most exclusive suite in Latin America, is a wholly private and impeccably appointed 1,291 square foot residence located on the 6th floor of Faena Hotel + Universe featuring two bedrooms (1 pictured), three bathrooms, living (pictured) and dining rooms, a kitchen, a library and outstanding panoramic views of the Faena Art District, embankment and city center of Buenos Aires. Additional amenities include a marble bathroom with rain forest shower and Jacuzzi and a state of the art in-room entertainment center with three 42-inch plasma screens.
Atop Faena Hotel + Universe is the Tower Suite, a triplex suite with exceptional views of Rio de la Plata and the MicaelaBastidas Park. The centerpiece of the suite is a fiber optic teardrop crystal lamp that shifts from amber to blue to green to purple, located at the foot of the stairway and specially created for the suite.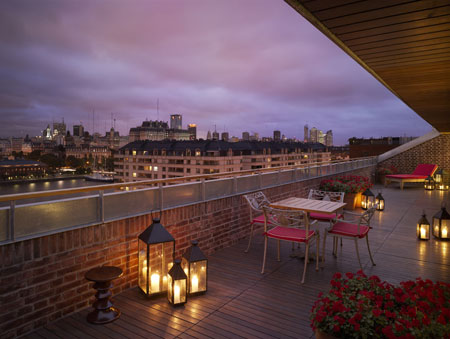 The two bedroom, two bathroom suite also includes living and dining rooms, marble bathroom with jacuzzi and relaxation area, an outdoor terrace and flat screen home theaters in the living room and bedroom.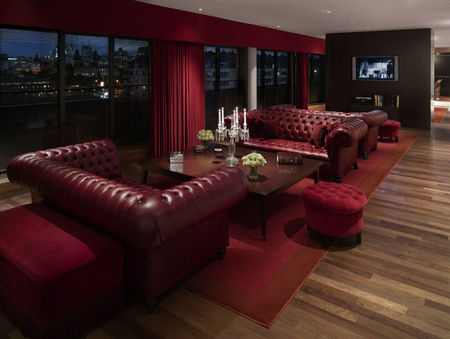 With two outdoor terraces, offering double 180-degree views that face east and west, supplying idyllic panoramic views of city and river, sunrise and sunset is the Imperial Suite. Inside, a spacious living/dining room with sliding glass windows, kitchen, cloakroom and one super king-sized bedroom and bathroom make the Imperial Suite perfect for honeymooners or any other romantic escape.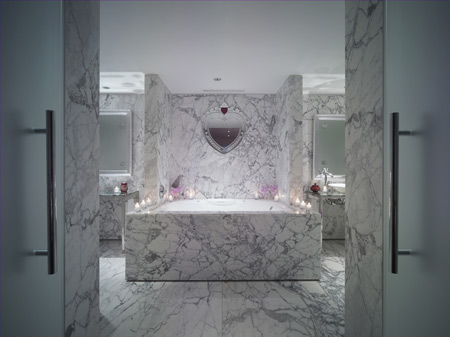 The marble-floored bathroom features a Philippe-Starck designed jacuzzi and separate shower, while the living room and bedroom each boast home theaters with flat screens and surround sound.
All suites include one of Faena Hotel + Universe's famous personal Experience Managers, high-speed wireless internet connections and automatic red velvet curtains with Venetian blinds.
Faena Hotel + Universe is known for ultimate luxury and the F Suite, Tower Suite and Imperial Suite continue the tradition of welcoming guests with exceptional service and luxe comforts.
---