Stressfree in Chiang Mai at The Shangri-La Hotel
---
Culturally rich with a multitude of local activities as well as impressive services and amenities, the
Shangri-La Hotel Chiang Mai
is the perfect place for a relaxing vacation or business stay.
Shangri-La Chiang Mai
offers an outdoor pool, luxurious rooms decorated with local artifacts and rich fabrics, high speed internet, an outstanding restaurant and close proximity to both the International Airport and the town of Chiang Mai with its many theatres and museums. The surrounding country of jungles and mountains offer additional activities such as jogging and hiking.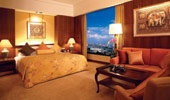 The Shangri-La Hotel Chiang Mai also offers the exclusive Horizon Club. Occupying the top three floors of the hotels, the Horizon Club includes larger rooms with breath taking views of the surrounding country, an exclusive Club Lounge for check-in and check-out that also serves a complimentary buffet breakfast each morning. Guests staying in the Horizon Club rooms also have access to a free suit-pressing and shoe shine service, private meeting rooms, a variety of newspapers, magazines and board games, and each room is provided with fresh exotic fruits and international newspaper each morning. All of these luxuries help to make your stay more enjoyable and stress-free.
---