Strawberries and Cream Pedicure, Footjito, and Afternoon Tea at Brown's Hotel, London
---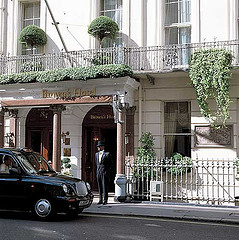 A recent Washington Post article has nothing but praise for Brown's Hotel in London, the city's oldest hotel which has recently undergone a $36 million, 18-month renovation:
Unlike some other opulent places, there is nothing big or brash about Brown's. There are no grand ballrooms fit for conventions or large weddings. Instead, the furniture and lighting fixtures are low-key, so the library, bar and restaurant lend themselves to intimate conversation. It's a place where ladies have afternoon tea in the English Tea Room and gentlemen meet for a drink at the bar -- although today's clientele is more likely to be venture capitalists from around the corner than nobility getting a fitting on nearby Saville Row.
This charming historic hotel, designed with the utmost style and sophistication, has long boasted a reputation of elegance. The Afternoon Tea, served daily from 3 to 6 pm. in the library where Rudyard Kipling wrote "The Jungle Book," is a London institution. The seasonal pedicures in the Spa are a must. After the success of the Strawberries and Cream Pedicure at the Spa this summer, the autumn will see the launch of the Footjito treatment, based on the famous Cuban cocktail (available September 1-November 30). Following the treatment, guests are offered a complimentary mojito in the Donovan Bar or mint tea in the English Tea Room.
---