Spring Escapes: A Taste of Paradise at the Jimbaran Puri Bali
---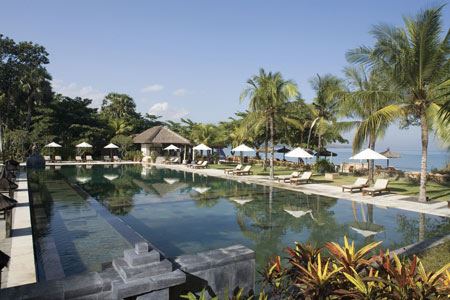 Cabin fever? Flee the snow-threatening forecasts for sunnier climes. It's not too late to book a spring escape- even to the exotic island of Bali. Here's what awaits: a mesmerizing landscape of rice terraces, volcanoes and rainforest, rich cultural life, tasty Balinese cuisine, and some of the prettiest beaches in the world. Stay at the
Jimbaran Puri Bali
, an Orient-Express property, for utter relaxation, pampering, and spectacular views across the Pacific from one of Bali's best beaches. Bed down in a traditional Balinese-style cottage, designed in timber and marble, and enjoy the indoor/outdoor showers, sunken terrazzo marble bathtub, and private tropical garden. Head to the beach spa for a massage on one of three Balinese-inspired terraces. Feeling more adventurous? A private guide can escort you to see some of the beautiful temples in the surrounding region. Good news:
The Jimbaran Puri Bali
is currently running a special offer called "the Great Affordable Escape"...
---