Spend an Artful Summer in Madrid
---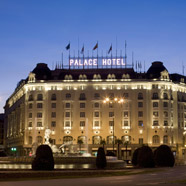 If you are an art lover, you might want to make plans for a stop-over in Madrid this summer. Two major exhibits showcasing two of the world's greatest artists will be opening in the Spanish city. From May 26-September 6, the Prado will feature
Joaquín Sorolla (1863-1923)
, the first major monographic exhibition devoted to the artist since 1963. One of the key figures in the history of Spanish art and the most internationally-known artist of his day, Sorolla worked in a realistic style and captured the magical light of Valencia's Mediterranean coast. Opening June 9 and running through September 20, the Museo Thyssen-Bornemisza will present a major exhibition,
Matisse: 1917 – 1941.
Designed to showcase a little-studied period in the artist's life and work, the show will present some 80 paintings, sculptures and drawings from two critical dates. Marked by the shadow of World War I and the forebodings of the next world conflict, the period was one of rapid ascent for Matisse, and this exhibition aims to present the artist's central role in the flourishing of modern art during this era.
Where to stay? There's a plethora of choices: Hotel Santo Mauro, Hesperia Madrid, Urban Hotel Madrid, Eurostars Madrid Tower, Mirasierra Suites Hotel, The Westin Palace Madrid, and AC Palacio Del Retiro are just a few of the great luxury properties you can book at Five Star Alliance.
---