Spa Deals Abound at Prague's Alchymist Grand Hotel and Spa
---
Start 2009 off relaxed, refreshed, and ready to face the year ahead.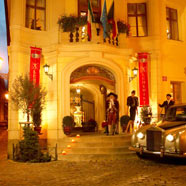 Head to Prague and you'll get 20 percent off spa services at the luxurious
Alchymist Grand Hotel and Spa
.
The hotel is housed in Dum u Jeziska (House at the Jesus Child), a historic building that originated from apportionment of local gardens that took place towards the end of the sixteenth century under the supervision of the notable builder Oldrich Avostalis.
The top-of-the-line Ecsotica Spa offers a range of Indonesian inspired signature treatments from deep muscular massages and relaxation aromatherapy to detoxifying cleansing wraps and Darphin's beautifying treatments that promise to pamper the senses. The Spa also features a spacious suite specially designed for couples wishing to share their romantic experience. If you want to work up a sweat on your own, Alchymist Grand Hotel and Spa offers a fully equipped gym situated in a unique Gothic cellar. The discount applies to appointments made weekdays from 9am-3pm.
---