Sipping Bordeaux Wine in Saint-Emilion, France: the Grand Barrail Chateau Resort and Spa
---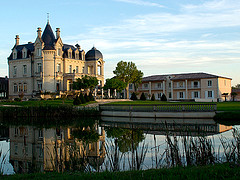 How's this for a perfect day. A leisurely lunch savored in the sunshine gazing up at the immense ruins of a 9th century church carved from sheer limestone walls. A stroll through winding cobble-stoned streets with panoramic views of the surrounding vineyards. A tour through a local wine-grower's chateau, its wine cave built deep into the hill's rock cliffs. A late afternoon glass of pink sparkling wine, accompanied with almond flavored macaroons, in the ruins of an ancient monastery. As the afternoon light fades orange against the city's ramparts and Roman stone archways, you can't help but think… This is the life.
Welcome to Saint-Emilion, 30 minutes from Bordeaux in the midst of the world's most famous wine-growing region. The town is steeped in history-- its name derived from the Benedictine monk hermit who resided in a cave here between 750 and 767-- and the luxurious traditions of art de vivre. The vineyards and township of St. Emilion are UNESCO-heritage protected sites because they've endured-- virtually untouched-- since the Roman poets extolled the virtues of the rich wines.
In such an extraordinary setting, the Grand Barrail Chateau Resort and Spa is the gem to choose for its unrivaled accommodations. Just outside the township of Saint-Emilion, the castle's towers and turrets emerge in splendor from the rolling hills of meticulously planted vines. Even the basic accommodations (Superior) are comfortable, spacious, and tastefully appointed. But the suites are extraordinary, with lavish bathrooms, light-filled rooms, and sweeping views over the lawn and countryside; one even boasts an enormous stone balcony and terrace that comprises most of the castle's second floor.
The new full-service Spa features hammam, Scottish bath, steam room, sauna, Jacuzzi, and a tantalizing menu of treatments with Ligne St Barth cosmetics. For example: the St. Barth Softness is a nourishing body peeling massage with coconut oil, fresh papaya and an extra-fine sea sand polish complex. (The sand is imported from the Caribbean island, and the Ligne St Barth cosmetics are enhanced with additional fresh fruit.)
Dining is a gastronomic experience, with plates as beautifully presented as the cuisine is rich and delicious. The chef's got quite a few awards under his belt. Compared to your nightly feast, breakfast isn't half bad. It's served in an elegant breakfast room filled with light through stained glass windows; dainty crossaints are served hot from the oven, accompanied with fine fruit jams and other delights from a generous buffet display.
Here in Saint-Emilion at the Grand Barrail Chateau, it's easy to see how the French have mastered the joie de vivre.
---

Related Hotels