Single Women Travelers Pampered in London at Hotel 41
---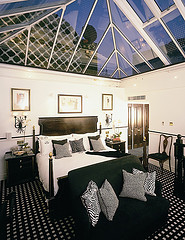 In London on business? Head to
Hotel '41'
, the city's intimate and luxurious boutique, where solo women travelers are given the royal treatment. Located just across from Buckingham Palace, the exclusive Hotel 41 has put together an innovative package where women can expect superlative personal service and guest amenities. The
Woman Traveling Alone
package includes:
* Enhanced levels of security
* Escort to your room and from your car if you are driving
* Foot spa and massage kit in your room
* The item of your choice from a well-being basket
* Selection of magazines and periodicals
* Thoughtful extras to add comfort during your stay including: duvet and soft towels, slippers and robe, hot water bottle, improved lighting for applying make-up, high-performance hair dryer, full length mirror
'41' offers the perfect mix of high technology and classic luxury. A personal butler will assist with unpacking/packing your belongings (though only if you so wish it-- service is thoughtful and discreet). Here, every room is beautifully appointed with handsome black and white decoration, handcrafted furniture, hand stitched mattresses, and working fireplaces. And of course your guest room easily becomes your own personal office as all rooms are wired with state-of-the-art technology.
---