Sicily's Finest: Grand Hotel Mazzaro Sea Palace
---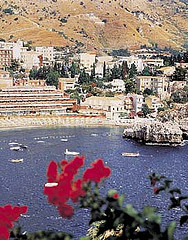 You'd be hard-pressed to find a more evocative spot on the Mediterranean. On a private beach on the most beautiful bay in all of Sicily, the
Grand Hotel Mazzarò Sea Palace
is elegant, charming... downright dreamy. Here's what we love:
*Each guest room provides sigh-inducing views of the bay. If you choose a suite, you'll get treated to your very own private pool.
*You can also get your fix of those dazzling bay views when you dine at La Terraza.
*Unlike a lot of European hotels, the fitness center at the Grand Hotel Mazzarò Sea Palace is actually a state-of-the-art facility.
*Frequent renovations over the years means the luxurious guest rooms-- outfitted with original art, wicker furniture, and wood or tile floors-- have all the latest amenities like Wifi.
*You can easily check out the lava at Mt. Etna, Europe's highest volcano. In fact, you can even play a game of golf at the 18-hole Il Picciolo course nearby on the slopes of Mt. Etna.
*Or just hang out at the resort, a self-contained oasis with surfing, sailing, water skiing and scuba diving.
---