Shangri-La Hotel, Xian: Check In to Luxury and Check Out China's Terracotta Warriors
---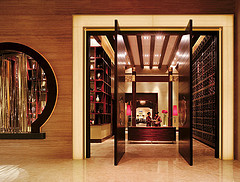 With all the Olympic buzz, the world's gaze has shifted to China. You may not be heading to the games in Beijing this summer, but a trip to China, ranked one of the top international destinations by the World Tourism Organization, may be on the horizon. An absolute must is a visit to Xian, an ancient capital of China and the terminus of the legendary Silk Road, home to the Terracotta Warriors, one of China's most renowned archaeological discoveries. Described as a "Natural History Museum," Xian is simply brimming with relics and sites. The city is also an important part of the economic revival of interior China, a bustling modern city.
The place to stay is the Shangri-La Hotel, Xian,
situated within easy reach of the top tourist attractions and the city's business and entertainment districts. The only luxury hotel located in the Gaoxin hi-tech development zone,
The Shangri-La
has
choice guest quarters and an impressive service team including IT butlers.
Also on site: four trendy designer restaurants, the largest meeting and banqueting facilities in Xian, and a fully-equipped health club with heated pool.
---