Shangri-La Beijing Unveils New Spa and Valley Wing
---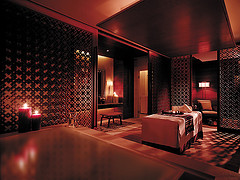 Let the countdown begin. There's a year to go before the
2008 Olympic Games
in Beijing, and visitors are already eagerly plotting their trips to the Chinese capital. A good bet is the award-winning
Shangri-La Hotel
, recently renovated with a spectacular $50 million Valley Wing, contemporary restaurant
Blu Lobster
(with the most extensive selection of Bordeaux wines in the city), and
CHI Spa
, one of the most luxurious spa facilities in Beijing. Guests of the new Valley Wing enjoy an unparalleled level of service with chauffeur-driven limousines, exclusive check-in lounge, 24-hour butler service, and complimentary breakfast, snacks, wines and canapés in the grand Valley Wing Lounge. A landmark in the western part of the city close to the Summer Palace and the Beijing Exhibition hall, the Shangri-La also features a state-of-the-art health club with heated indoor pool and rooftop garden.
Don't miss an excursion on the River Dragon
, the exclusive touring boat moored at the hotel which offers four cruises daily to the Summer Palace, passing by old bridges, temples, and traditional Chinese courtyard houses on the riverbanks.
Pictured: The new treatment rooms at the CHI Spa. Each CHI suite features a changing area and rain shower, in addition to heat treatments, bathing and relaxation spaces. Inspired by traditional Asian healing philosophies, CHI offers treatments and therapies that combine the healing rituals and traditions of China and the Himalayas.
---