Seaside Villas at the Banyan Tree Maldives Vabbinfaru
---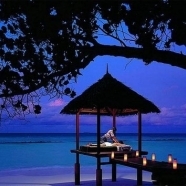 Fact: The Maldives is the most beautiful place on Earth. There, it's been said. Minted and printed. For those that believe there is another place on this planet that compares, please feel free to comment below. In my opinion, you have a hard case to prove. And when you're lying on a hammock underneath the bright canopy of the bluest heavens, staring out across the clear turquoise waters, and breathing in the sweet scent of the trade winds wafting by, I think you'll agree.
The Banyan Tree Maldives Vabbinfaru, on the North Male atoll, is the perfect place from which to experience the world's most beautiful place. The Banyan Tree is pure luxury, period. Guests stay in deluxe beachfront villas propped on stilts that plunge deep into white sand. The beaches are often empty, with some visitors reporting that they didn't see another soul all day while soaking in the sun and swimming in the warm, docile waters.
The Banyan Tree also recognizes the importance of its location, as the Maldives is a unique eco-habitat with rare species abounding. The marine biology demonstrations presented for guests is a unique offering to this exotic locale. So if you want to stay in the most beautiful place in the world, reserve a villa at the Banyan Tree Maldives Vabbinfaru. Heck, in between sips of Mai Tai, you might even learn a thing or two.
---

Related Hotels