Say Hello to the Peace Hotel: Shanghai's Icon on the Bund Gets a Fairmont Facelift
---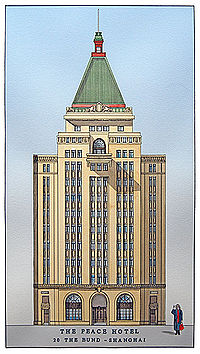 Shanghai is gearing up for 2010's World Expo with a
slew of luxury hotel projects
. One such project is the renovation of
The Peace Hotel
-- "a symbol of all that was playful and decadent in old Shanghai,"
to quote The Financial Times.
Facing the Huangpu River from its strategic spot on the Bund, The Peace Hotel is an Art Deco landmark with lots of history. (Put it this way: The Peace Hotel has seen a lot: from Sun Yat-sen to Japanese occupation during WWII straight through to the present-day skyscraper boom in the city
called "hipper than Hong Kong
and more alluring than Beijing.")
Fairmont will be managing
the 12-storey property when it opens next year after a renovation project
that's been hailed
"one of the most challenging, and closely watched, historical restoration efforts in China" as it seeks to "balance the needs of profit and preservation."
---